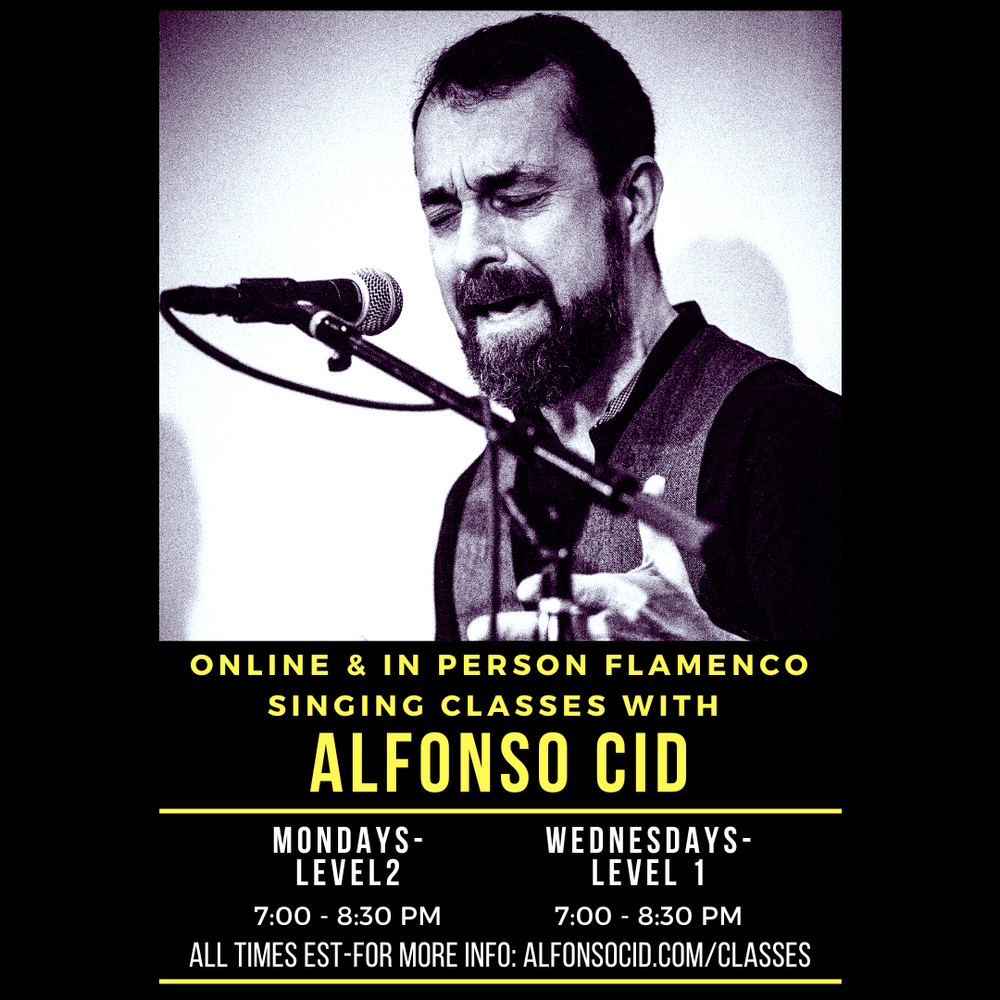 ONLINE FLAMENCO SINGING CLASSES WITH ALFONSO CID
Every Monday Level-2 (advanced) classes at 7:00pm, every Wednesday Level-1 (absolute beginners) classes at 7:00pm
In this fun and interactive class taught by "cantaor" Alfonso Cid students will learn the "letras" (lyrics) of traditional "cante" for various "palos" (styles) while also learning how to accompany with "palmas", the rhythmic handclapping in Flamenco.
This class is perfect for those students who would like to further expand their Flamenco singing knowledge, and for those who as dancers, would like to apply it to their dancing and choreography creations.
The classes are one and a half hours long. In the first half hour students will learn vocal technique, emphasizing diaphragmatic breathing and voice placement or "impostación", as well as flamenco scales, history of the "palo" and musical terminology. The other hour of class is dedicated to learning and perfecting the Flamenco repertoire we will work on.
The classes will be held online in Zoom. A WhatsApp chat room will be created for all of us to exchange material, share music and videos pertaining to the class.
Google Drive documents will be shared to the students with the lyrics in both Spanish and English, as well as music tracks with and without Alfonso's singing for you to learn and practice the songs.
No previous knowledge of Spanish is required. Classes will be given in English.
To enroll send an email to: mogaburo@gmail.com
$30-single class, $135-5 class package, $250-10 class package.
You can make payments via PayPal or Zelle using mogaburo@gmail.com
Or via Venmo using my profile @AlfonsoCid